Welcome to Transtech Mobility
At Transtech Mobility, we work diligently to develop a lasting relationship with our client/patients. We are excellent 'listeners' and understand that each individual has unique and special needs. Transtech's experience becomes invaluable and evident, when we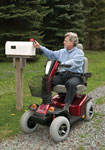 have the opportunity to address a specific customer's need for safety, support, and comfort. We encourage open communications from our clients and their clinicians in order to provide the most appropriate durable medical equipment solution.
Our attention to customer needs does not stop with the sale of a product. We are here day in and day out to service everything we sell.
Transtech Mobility is a registered provider of assistive technology products with Medicare, and a MHCP Medicaid provider in Minnesota.
Our Products
Transtech Mobility is a VIP provider of Pride Mobility's line of powered and manual mobility products including:
Quantum high rehab power chairs
Jazzy power chairs
Pride power scooters
Pride lift chairs
Stylus and Litestream XF manual wheelchairs
Silverstar vehicle lifts and ramp
We also market and service a complete line of assistive technology products including:
Invacare patient lifts
Invacare electric hospital beds
             Credentials
HUMPHREY Award – Supporting a Sheltered Workshop
RESNA Certified – ATP
HQAA Medicare Credentialed
PMI Medicare/Insurance Bonded
Quantum High Rehab Certification
Pride Mobility VIP Provider
Pride Mobility Service and Reference Document Center
Licensed Home Medical Equipment and Service Provider
Custom Design Group (hardware and programming)