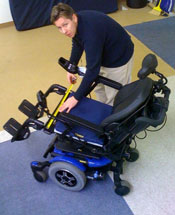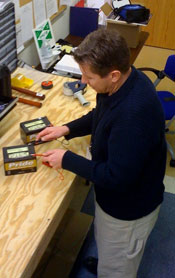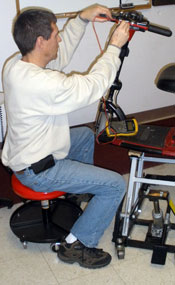 Service and Support
Most Transtech products are provided with a standard one year manufacturer's warranty on parts. This warranty is provided through Transtech Mobility and may vary based upon the type or model of product selected.
Whether you are located in Minneapolis or St.Paul, our company provides for on-premise delivery, training, assembly, repair, and maintenance of your power mobility product, vehicle lift, patient lift, electric hospital bed, or lift chair. Transtech does provide remote telephone support and education at no charge for existing Transtech customers.
Our field service staff is supported by Pride Mobility's training and support group, consisting of physical/occupational therapists, Medicare/Reimbursement specialists, electrical engineers, seating/fitting specialists, product managers, and system design specialists. All Transtech office personnel and service technicians attend structured classes provided by the manufacturer and other health industry organizations and experts.
Our in house "sheltered workshop " consists of experienced, limited mobility individuals who assemble, test, and "prep" our mobility products for delivery to the customer. Most of our products can be shipped in one business day or the day we receive your order.
Transtech supports the "limited mobility marketplace" by providing the following full-service programs;
| | |
| --- | --- |
| * Standard Warranty Program | A manufacturer's warranty on parts which supports our new equipment product line consisting of all power scooters, power chairs, lift chairs, vehicle lifts, patient lifts, manual wheelchairs, electric hospital beds, and other home healthcare equipment. |
| | |
| * Time and Materials Program | A service program which provides for repair, testing, training, and programming for those customers who are not under a manufacturer's warranty or have purchased an assistive device or product from another company or individual party. Customers are billed for a service technician on a per hour labor basis plus a trip charge and parts. |
| * Extended Warranty Program | A service program which provides for additional warranty coverage after the initial warranty period has expired. This generally covers years 2 through 5 and is known as an Annual Maintenance Agreement. |
| | |
| * Seating/Fitting Evaluation | A service available at no charge when a customer purchases a Transtech Mobility product. This evaluation is provided to support an individual with "special needs" for seating requirements. This evaluation considers the body type and size of the client or customer, the adaptation of the mobility hardware equipment required to support the individual, the adaptation of the mobility software programming required to support the individual, and the soft goods seating materials to support the comfort, safety, and potential rehabilitation requirements of the client and/or patient. |
| | |
| * Custom Designed Accessories | A custom service available for those individuals with special needs for orthopedic, neurological, cardiovascular or environmental support devices or accessories, which can be added to your power scooter or power chair to improve one's lifestyle and independence. These devices or options are designed, tested, and installed in Transtech's Service Centers. |
| | |
| * Transportation Solutions | A service that provides lifts, carriers, and ramps for the transportation of power chairs and scooters using a client customer's van, SUV, or RV as a transport vehicle for these mobility products. Transtech works with the automotive dealers and lift manufacturers to assure that these transport devices are "size compatible" with the power chair/scooter and the van, SUV, or RV. |
| | |
| * Leasing/Financing Programs | A financial service which assists qualified individuals with limited monthly recurring income with the purchase of a Transtech mobility product. This is arranged over a period of three months. |
| | |
| * Insurance Programs | A risk free policy which provides for the complete replacement of your power chair or power scooter in the event of major damage or loss caused by accident, fire or theft. This policy covers the physical vehicle only. |